Get the latest news, bonuses and promotions!
Premier League betting: How important is a soccer club's best player?
Liverpool without Mo Salah. Crystal Palace without Wilfried Zaha. Discover how a soccer team's results are impacted when their best player is absent.
How influential is a soccer club's best player
While soccer is a team game, with 11 players (plus substitutes) contributing to whether a match is won, drawn or lost, every club has squad members who are more important than others. It can be beneficial to bettors to refer to sites such as Premier Injuries to see which players are unavailable for a match before making their selections.
Premier League betting: Soccer clubs without their best players
It's logical to assume that if a club's top scorer is absent from the manager's starting 11, their team has a lower chance of winning their fixture. However, this isn't necessarily the case.
An economic model called the 'O-ring theory' – which is named after the small, faulty item which caused the Challenger shuttle disaster in 1986 – highlights that (among other things) the weakest link in a production line has a greater impact on outcomes than the best one does.
Apply the theory to soccer (as Chris Anderson and David Sally did for their excellent book, 'The Numbers Game') and it reveals it is of greater benefit to upgrade the worst player in a team rather than buying a superstar. The lesser player's weaknesses are likelier to have a greater negative impact than the positive influence upon the side that the best player provides.
Nonetheless, thanks to freely available data on FBREF, we can look at how a team's record differs depending on whether a particular player is on the field for them or not. With this knowledge, bettors can make informed decisions before placing their bets on match outcomes.
Case study 1: Wilfried Zaha
Supporters of every club will have their own theories regarding which of their team's players makes the most impact when they play, but perhaps the most widely known example is the fate of Crystal Palace when Wilfried Zaha has been unavailable.
Between January 2017 and February 2021, the Eagles played 20 Premier League matches in which the Ivory Coast international played no part. They won just twice and lost the other 18 fixtures, accruing a goal difference of -34 across those games. While they won two and drew four of their next eight Zaha-less league matches, Palace averaged just 0.66 points per game without him in 29 fixtures across the last five seasons, which is unquestionably relegation-level performance.
With a record like that, it's little surprise to learn he has been one of the most important players to any side. FBREF carries data on each player's individual goal difference (as in, the goals scored and conceded by their team while they were on the pitch) and we can see how that compares to the time when they were absent.
To ensure a decent sample size and a degree of stability, we shall look at players who remained with the same club for every season from 2016/17 to 2020/21, and played at least half of the available minutes across those five campaigns. That gives us a total of 70 players, and the below table shows the top 10 who appear to have made the greatest positive impact on their team's results.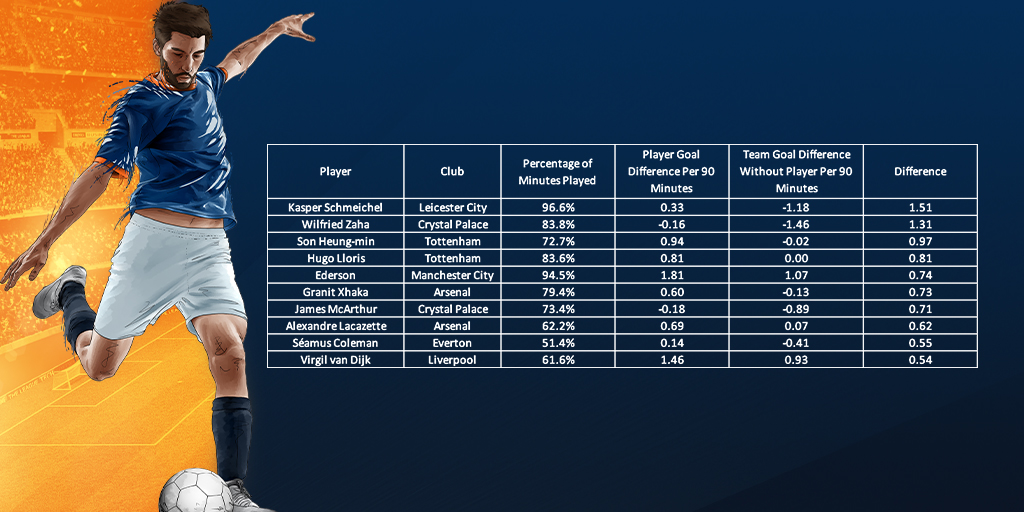 Kasper Schmeichel's figures exemplify the difficulty of this kind of analysis. If a player features in almost every game anyway, the sample of time without them will be too small to mean too much; however, we should not disregard it entirely.
Perhaps more interesting are the figures for the bottom three players in the chart, as they only played between half and two-thirds of the available minutes and their teams were around half a goal per game better off when they were playing. Liverpool supporters won't be surprised to see Virgil van Dijk there, with Arsenal and Everton fans less likely to have expected the presence of Alexandre Lacazette and Seamus Coleman.
Liverpool have eight players in the sample, and the identity of their least important player by this measure is worthy of a closer look.
Case study 2: Mohamed Salah
Using this method of comparison, Mohamed Salah is the least essential player from the Reds' octet of men in the study.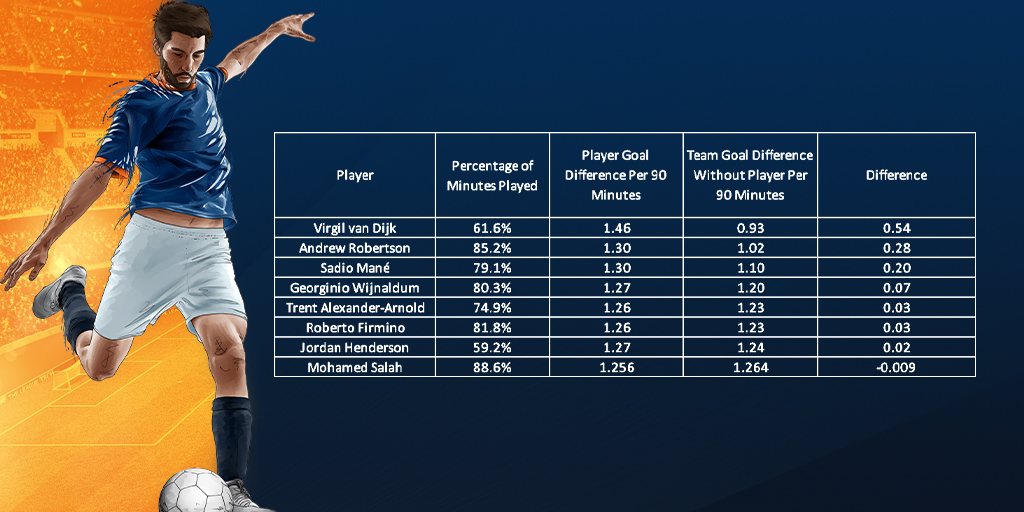 The margin between Liverpool's goal difference with or without the Egyptian is negligible, and he has appeared for the vast majority of their matches, but the Reds' form did not dip on the rare occasions he was absent between joining the club and the end of 2020/21.
There were only seven league matches across those four years in which he played no part. The Reds won four and drew three, with big victories over Everton (5-2) and Leicester (3-0) among them. Salah also missed two Premier League games while at the Africa Cup of Nations in 2021/22, with Liverpool winning both.
This is not to say that there would be no impact if he were to leave the club, as he is usually available and is a regular provider of goals and assists. But Liverpool's chances of victory might not slip by as much as bettors would assume in a one-off match if Salah did not play, and this is one instance where the O-ring theory appears valid.
Conclusion
While the case studies above provide interesting examples, there are clear differences between Crystal Palace and Liverpool which are hugely relevant to the findings.
Jurgen Klopp's squad is of a much higher standard, so they can more easily absorb the loss of their star man than the Eagles can.
But the examples also show the value of checking the personal goal difference data for a key player if you are aware that they will be missing for a forthcoming game. Any insight into how a team does without them could prove invaluable when making a selection.

Sign up to Pinnacle here and bet on the 2022/23 Premier League season with Pinnacle's unrivalled odds.
https://www.pinnacle.com/en/betting-articlesAndrew Beasley